Canford Heath Junior and Infants Summer Fair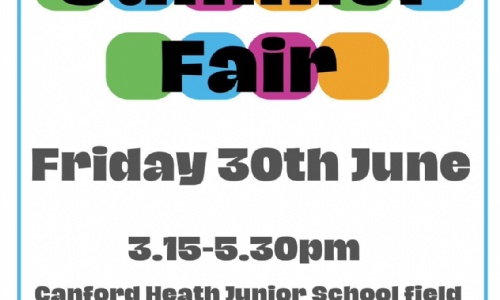 Please come and join the fun at our summer fair
Our annual Summer Fair is only a short time away and we are hoping for sun, sun and more sun! As always, there will be so much to see and do for all the family, so please grab your friends and family, and come join us for this spectacular community event. This year, we have so much planned including special guest appearances from Dexter Dog, Rapunzel & Patch Puppy! As well as bouncy castles, face painting, hair braiding, DJ, hot food, fully licensed bar, sweet treats, splat the teacher, water to wine & over 60 stalls.
Tombola stalls & donations
Mrs Palmer and Mr Wilson have kindly agreed for the 2 schools to hold a non-uniform day on Thursday 29th June in return for a TOMBOLA prize for the Fair. Please see a list below of the donations allocated to each year group. If you are unable to send in a donation, your child is still welcome to come to school in non-uniform on that day.
EYFS – Chocolate or Biscuits YEAR 3 - Pocket money toys/fidgets
YEAR 1 – Stationery YEAR 4 - Chocolate or Biscuits
YEAR 2 – Pocket money toys/fidgets YEAR 5 – Stationery
YEAR 6 – Sweets
Raffle tickets
You will shortly be receiving some tickets for our spectacular Summer Raffle – these will be sent home with your children, so look out for them! We have so many amazing prizes up for grabs including £170 Paulton's Park Gift Voucher, Amazon Fire 8 Tablet & Family Oil Drum BBQ and much, much more!
Extra tickets will be available at the school office. We do ask for you to send back any counterfoils and money asap. The Raffle will be drawn at approximately 5.00pm at the Fair.
Cuddly toys and books
If you are anything like us, you will have gathered a collection of children's cuddly toys and books that you may no longer need or use. If this is the case, we would love to take them off your hands. At the Summer Fair, we are running a 2nd hand stall, where we will be selling both cuddly toys and books that are in good and useable condition. Please drop your donations to the school office prior to Friday 30th June.
**Please Note - No Dogs will be allowed at the Fair **